4.09 Leave Overview
Find it:  Leave Management >> Leave Overview
The Leave Overview page provides you with a snapshot of your entire student population and their upcoming leave events.  It provides a quick view for up to 4 weeks of scheduled leave events for any individual of group of students. The screen is very versatile and allows you to quickly identify both students who do have leave and also those that do not have leave.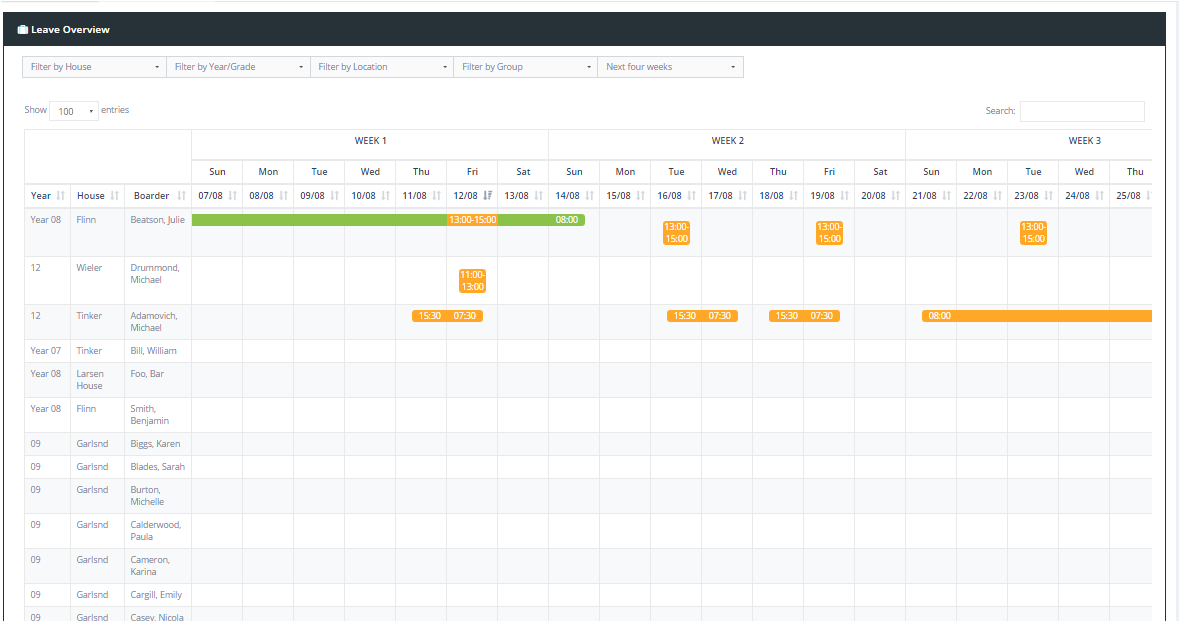 Leave is displayed in a time line view across the date range and colour coded to identfy its status.
Green = Approved Leave
Orange = Pending Leave Request
Blue = Student currently signed out to this leave.
Use Column Ranking to get quick overviews
Clicking on any of the column data headers will rank the entire list by column content.  Using the ranking ability provides a rapid overview for any particular day.
Clicking on the date header once will display all students "with" leave from the top down
Clicking the date header a second time will reverse the ranking and display students without leave on that day from the top down
Filters in the view let you select groups of students and you can sort your lists by Grade, Dorm, First Name and Last Name.  Each of your leave events are colour coded to describe their status.
Clicking on a student name will open the student sidebar where you can view leave history and other elements of any student's historic record.
Clicking on any of the leave events will open the Leave Details Screen for that Leave Event
Clicking on the Calendar Icon beside any student's name will open that Student's personal Calendar.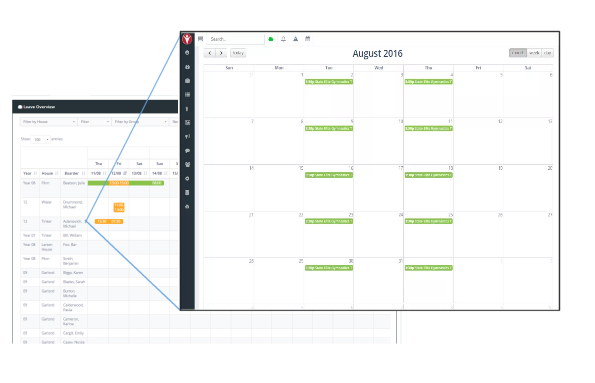 Seeing Who Has Not requested leave for particular date is made easy by the Leave Overview Chart.  You can rank by any column so ranking by a leave date will list students by their result, with those who have not submitted a leave request easily identifiable.