30.2 Managing Events
Clicking on an event will open the Event Details screen where you can view and manage all aspects of your events.  
Items identified in the above image are visible on all screens of the Event Details template.  Below the red line the page will alter with the Operation Tab (3) selected.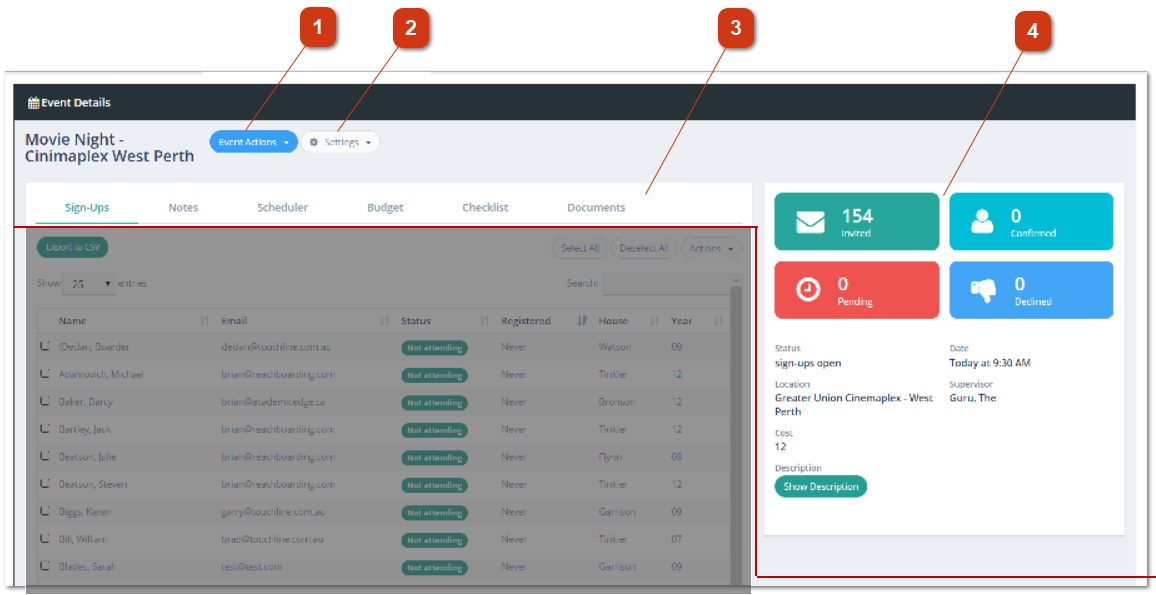 | ITEM | DESCRIPTION |
| --- | --- |
| 1. Event Action | The Event Actions button allows you to open or close your event. The option available in this button will depend on the current status of your event. |
| 2. Setting | Settings allows you to Duplicate, Edit or Delete your event. |
| 3. Operation Tabs | There are 6 operation tabs available that assist you to manage your events. These items are identified in more detail below this table. Selecting a Tab will open the operation screen for that function. Each operation tab has a separate set of screen functions and these are covered below this table. |
| 4. Status Metrics | The Status Metrics provides a quick reference profiling the status of your responses from invitees to the event. The number of Invitees, confirmed as attending, pending response and confirmed as not attending are identified in the status metrics. Clicking on any of the status panels will open the list of those contacts in the Sign-up Operation Tab of your Event Details view. |