Reach BioPad Guide
Android mobile device with Biometrics and RFID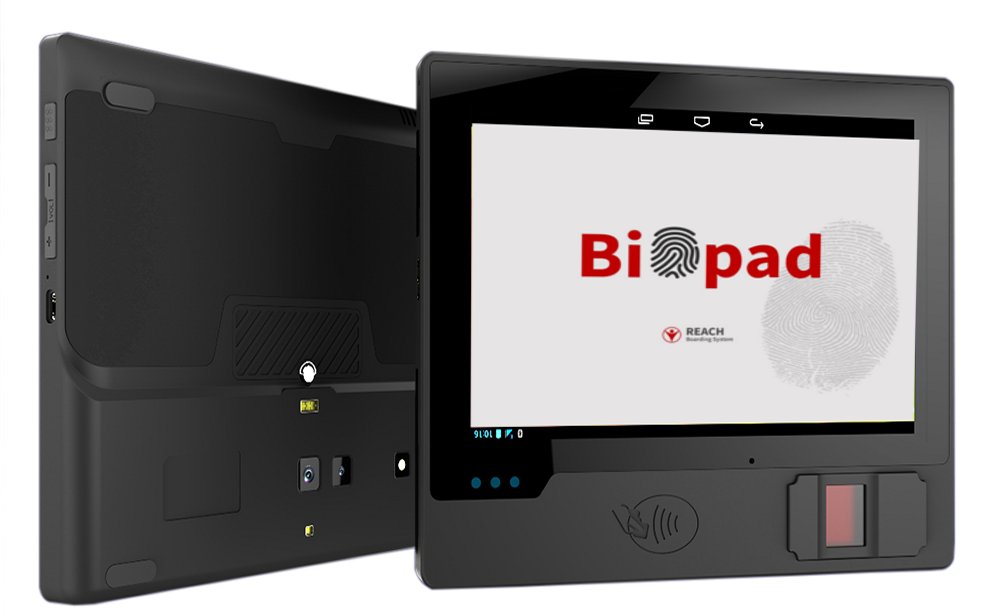 The Reach BioPad is a device that is used with the REACH Boarding System. It allows schools to use Biometrics (fingerprints) as an authentication method for students and staff.  
Reach BioPads are a versatile product and can be used to complete a range of Reach functions and transactions including 
Operate as a Student Kiosk
Track the movement of students as they move to and from various locations that the school tracks. This includes approved leave departures and returns, in addition to other on and off campus locations that the school tracks. Knowing where a student is at any time is an important duty of care requirement for the school and allows them to know, at any time, where students are in case there is an emergency.
Complete automated Roll Calls & Registers
Conduct Automated Rollcalls where student register their presence at a time and place (eg: breakfast rollcall, weekend mid-day campus check)
Capture & Verify Host Identity
Capture and verify host and parent identities when collecting students for off campus leave events. This includes the ability to capture signatures and/or photographs of the host that is collecting the student for a leave event.
The REACH BioPad is able to use several methods of authentication in order to verify a user's identity including;
PIN number
RFID card read
NFC Device read
Biometric Fingerprint
Biometric Facial Recognition 
Note:  Biometric Facial Recognition is not activated in the REACH BioPad at the time of writing this document however there is an option to use this feature in the future. This document is concerned specifically with providing parents, guardians, hosts and staff with information and guidelines on policies and procedures for the collection, storage, utilisation and storage of Biometric Fingerprint Data by REACH BioPad.
BASIC
System
Android 5.1 Quad-core 1.3GHz
RAM 2GB ROM FLASH 8GB


Display

8" 1280x800 pixels IPS Capacitive Multi Touch Screen



HD Camera

5 Mega Pixels(Front Camera)
8 Mega Pixels with Flash light, Auto Focus (Rear Camera)

Communication

Wi-Fi: 802.11 a/b/g/n
2G: GSM/GPRS/EDGE
3G: WCDMA HSPA UMTS 2100Mhz
4G: FDD-LTE/TD-LTE supported
Bluetooth: 4.0

Battery
8000mAh Li0ion rechargeable battery,


16 hours use, 25 days standby



Charging

D/C 5V, 1.5A

Weight
765g net | 945g packaged

Dimensions
220 x 132 x 26.5 mm (L*W*H)

Temperature & Humidity
Operation: 0℃~45℃, 10%~75%


Storage: -20℃~50℃, 5%~85%