30.2.3 Scheduler
The Scheduler feature allows you to set activities to automatically run in your Events at scheduled times.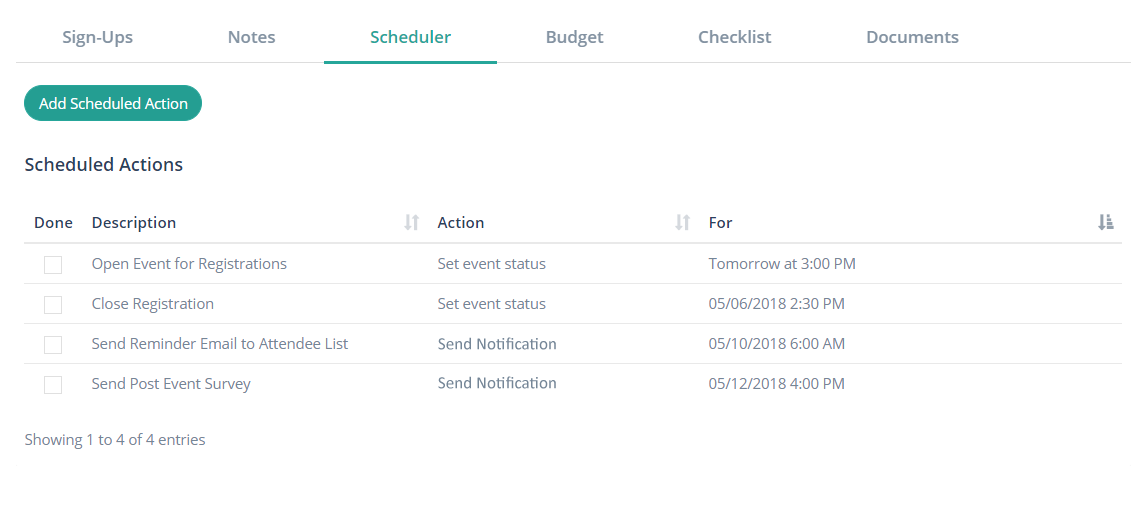 The Scheduler allows you to preset the Events Manager to perform like an assistant for the event supervisor by sending notifications, changing the status of an event or even following up with reminders to your various categories of invitees on the list.  
Receive a notification when your scheduled task is done
Like any good assistant, the Scheduler will inform the Event Supervisor when a scheduled task is completed. A record of the completed task is send to the email of the Supervisor and added to the Notes section of the event manager.
How to set a scheduled task
Scheduled tasks are set using the Add Scheduled Task button. This will open the Task creator where the details of a task can be set.  Tasks that you can set the Scheduler to complete are
Change Status .... you can Open or Close an event for Registration, set it as In Progress or Set it as FInished automatically.
Send Invites .... you can schedule invites to be sent to contacts on your visibility list.
Send Notifications .... you can send notifications to contacts of various status' as reminders or news items.