Show navigation
30.0 Events Setup & Configuration
Before you begin to use REACH Events in your portal you need to enable and configure some basic settings for access and visibility.
30.01  Set staff accessibility to the Events Dashboard

For each staff member you need to enable visibility and access to the Events Menu item and dashboard.  This is done in the Dashboards settings for each user.  Set Can see Events Dashboard to Yes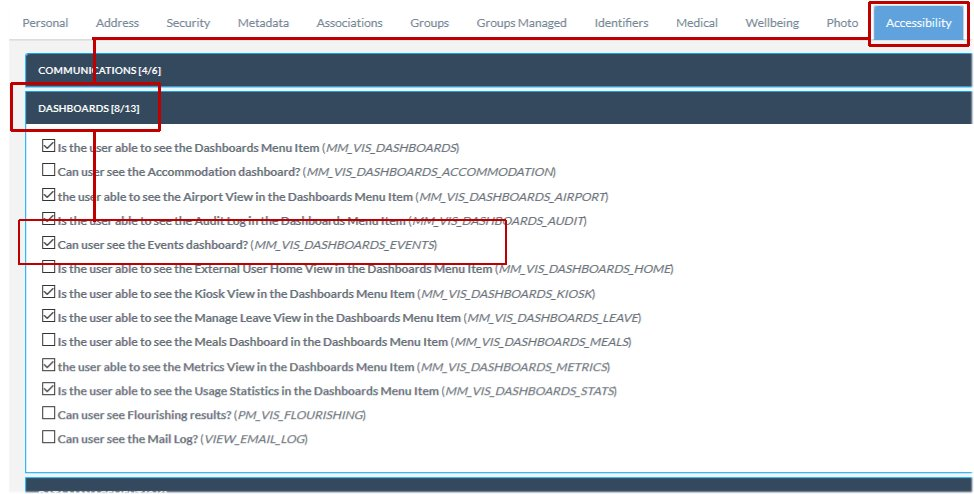 Setting accessibility controls for user roles
You can adjust the accessibility control for an individual (in their personal profile) or for an entire group of users (by Role) in your System Configuration - Infinity settings.  Each User Role (eg: Staff) has a Base Security setting and the accessibility settings for each user's role will be applied as their default setting.  See User Guide section 11.07 User Access Control for details about Base Security settings for user roles.
30.02  Student and Parent visibility control
In your System Configuration settings you have the ability to control whether events that you create in REACH are visible to student and/or parents.
Students and Parents will receive emaill notifications by default if they are invited to register for an event.  These visibility controls will determine if a student or parent can see the Events module when they log into REACH on web or mobile app.